North Coast map: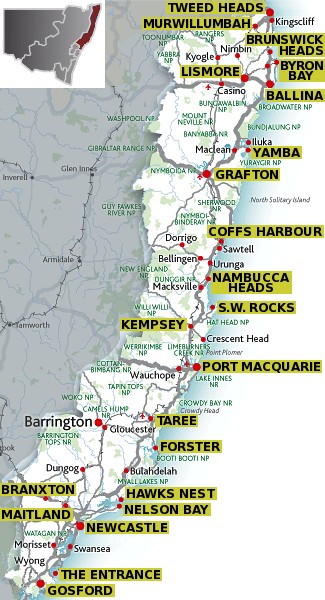 Introduction:
The New South Wales North Coast encompasses the beautiful coastline from the Hawkesbury River just north of Sydney and extending over 700 kilometres in length to the northern border town of Tweed Heads which is the gateway to Queensland's world-famous Gold Coast.
Between the Hawkesbury River and city of Newcastle is the Central Coast, incorporating a number of towns and cities which either front the ocean or one of the vast neighbouring lakes such as Lake Macquarie or Tuggerah Lake.
Newcastle, the state's second largest city, is situated around 150 kilometres north of Sydney at the mouth of the Hunter River. The city features a beautiful harbour surrounded by beaches and is the gateway to the mountains, pastoral land and vineyards of the scenic Hunter Valley.
What makes this region special is the extensive subtropical rainforests and rugged mountains which are situated inland from the many water front cities, resort towns and fishing villages which line the coast. These rainforests feature vast wilderness areas, stunning mountain ranges, sparkling rivers and spectacular waterfalls.
Follow the Pacific Highway and the many detours along the coast and into the surrounding mountains to fully experience all that this region has to offer.